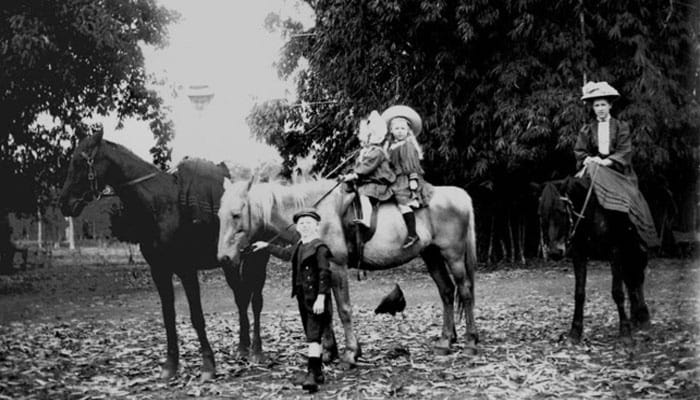 Riding hats were first worn in the late 18th century as a fashion item, rather than for safety reasons. Today, a hat is vital to protect the rider's head, as without the necessary safety wear, falling from a horse can cause fatal injuries.
According to the British Horse Society, there are around 1.3 million regular riders in the UK. When it comes to sharing the roads with traffic or riding a horse that is unpredictable, most riders will understand that horse riding has its own set of risks.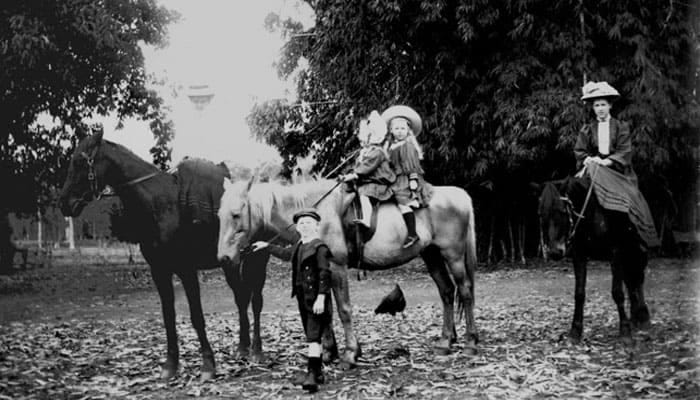 © Public Domain
Accidents and injuries
Statistics show that being in a collision with a car is one of the most common horse riding accidents. A horse can reach speeds of around 30mph, so if the rider is thrown off due to the horse being startled (or even struck) by a car, the fall can cause serious, life-changing injuries. Riders can suffer head injuries including brain damage, spinal injuries and broken bones.
According to BHS statistics, there have been 2,900 accidents involving horses on the road since November 2010, leading to the death of 39 riders. Between 2016 and 2017, 81% of the incidents were caused by drivers leaving insufficient room between their car and the horse, leading to a collision. Sadly, 230 horses have died on the roads in the same period.
Drivers are advised to slow down to 15mph when approaching horses on the road!
Who created the first riding hat?
Early riding hats were nothing like those we wear today.
The first riding hat to be worn by horse riders was the top hat, also known as the stovepipe hat, which was invented in 1793 by English hat-maker George Dunnage, from Middlesex. Tall, with a broad brim and a flat crown, it was traditionally worn by foxhunters for fashion reasons, rather than safety, as it was a rather impractical shape for galloping and jumping over fences.
Classy and stylish, it is also impractical for equine sports such as show jumping. Although it isn't worn for hunting today, it is still popular with advanced dressage riders.
In 1849, the bowler hat was invented by hat-makers William and Thomas Bowlers, of Lock & Co of St James's, London. The bespoke design was created for Edward Coke, the 2nd Earl of Leicester's younger brother. With its rounded crown and solid felt-covered shell, it became popular for middle and upper-class riders in the UK in the late 19th century. Featuring a tasteful design, it didn't blow off easily while riding. Bowler hats remained the standard for riding until the early 20th century.
How have riding hats changed over the years?
Charles Owen began manufacturing safety helmets made out of cork in 1911, originally for the British Army. His aim was to make products for a safer world. In 1924, he was granted the first patent to improve the helmets' ventilation and fit with his Microfit system, which is still a feature of all Owen helmets today.
In 1928, his basic cork helmet was covered with a hard exterior and branded as the first motorcycle helmet. In 1938, Owen further developed his design as a horse-racing safety helmet, changing the equestrian world forever.
The early helmet designs were solid plastic shells covered in fabric. They didn't have chin straps. As well as being safer than the traditional bowler hats, they looked sleek and fashionable. The hard shell was covered in black or brown velvet and provided the finishing touch to the classic riding habit of equestrians.
In 1983, the Charles Owen company created the first dual-standard riding helmet, after the Pony Club demanded safer riding apparel.
The brand is still a leading manufacturer of riding hats and has remained with the Owen family for four generations. Still based in Wrexham, North Wales, the factory has the founder's great-grandson at the helm. The process has been continually refined since the first protective hat was made in 1911 by the founder. The brand is known within the equestrian industry worldwide as a trusted manufacturer of safe, high quality, fashionable riding hats.
How often should you replace your riding hat?
Riding hats are made to be sturdy and durable. It is recommended you replace them every five years, even if you have never had a fall, to ensure they still have optimum protective properties.
Your helmet should be replaced after any impact, no matter how small because it can cause the microbubbles in the hat's expanded polystyrene (EPS) layer to burst. This layer protects your head most, should you have an accident.
Griggs Equestrian offers a branded range of riding hats, including a large selection of Charles Owen safety helmets.